Wilderness – The Man Who Lives in a Cave
We've seen plenty of amazing sights on this trip. We've had our minds blown by close encounters with wild mountain gorillas, the sheer magnitude of Victoria Falls and countless vistas. We've witnessed a huge range of animals out in their natural habitats, from lions and leopards to elephants, whales and dolphins. However, despite all of this, nothing quite prepared me for the man who lives in a cave in Wilderness. What we saw there, in that cave, was truly amazing and will stay with me forever. We'd heard about the man who lived in the cave weeks before we'd made it to Wilderness, so when we arrived in the town we decided to pay him a visit.
Even the walk to his cave played its part in making the entire experience fantastic. We had to walk over an old abandoned railway track that wound its way around the coast away from the town allowing you to leave civilisation behind. We walked for fifteen minutes along the disused railway. Shrubs and grass were pushing up between the sleepers of the track and plenty of other bushes and greenery was spilling over obstructing our way. All the while the waves were crashing against the rocks down below and the wind was blowing.
After walking for fifteen minutes or so, the train tracks went into a dark tunnel. We slowly entered and made our way towards the light at the other end. Once we'd stepped back into the daylight we were presented with the opening to the cave. This was not what I was expecting at all. I was thinking we'd come across a small cave with a man and a mattress who had maybe made some cool artwork with sea shells. I was expecting and odd ball living with few possessions. But what we saw was truly incredible. I genuinely believe that words cannot do this cave justice. It really did blow our minds.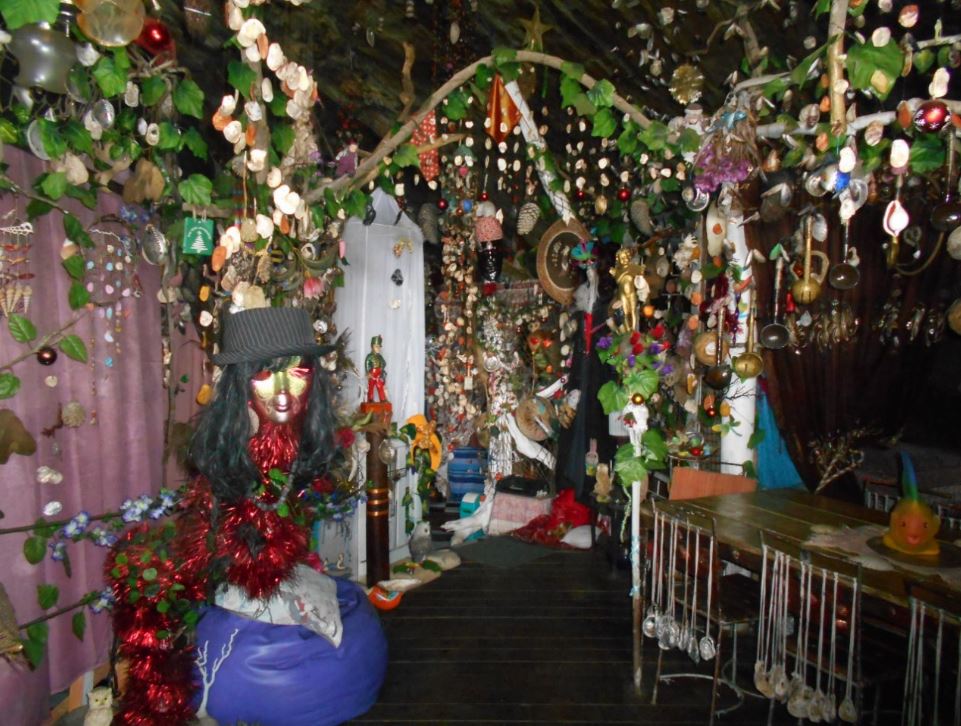 The tall cave had a wooden floor, walls and a number of rooms, but no ceilings. No matter which room you were in, if you glanced up you were presented with the giant roof of the cave. Each 'room', of which there were many, was beautifully decorated with antique furniture, hanging shells, artwork, and much more and felt like something from a fairy tale. The entire place was huge. There were four poster beds, old posh looking dressers, cupboards and lamps. There were also plenty of dolls and old fashioned art that gave the entire place a rather eerie feel, especially when you consider that it was dimly lit, you could hear the wind and sea howling and crashing outside, and you had to pass through a dark rail tunnel to get away. We spent half an hour or so walking around the cave, through the narrow walkways, getting a look at all of the rooms. The entire place was in pristine condition and had clearly been wonderfully taken care of. The man who lived there was pottering about and asked that we make a donation, which we were more than happy to do.
The man himself was, it must be said, a rather eccentric and odd chap. Though he was also very friendly and welcoming. He was a middle aged white man with long brown hair and was wearing a tattered woollen jumper. Throughout the cave were plenty of religious artefacts and he often referenced God or 'our Lord' when he spoke. His voice was incredibly high pitched and rather effeminate as were his mannerisms. We asked him how long he had been living in the cave and he told us that it was coming up to ten years. It must have taken all of that time to get the place into the condition it was in. He told us that it slept eleven people, saying that it was at times used as a sort of homeless shelter.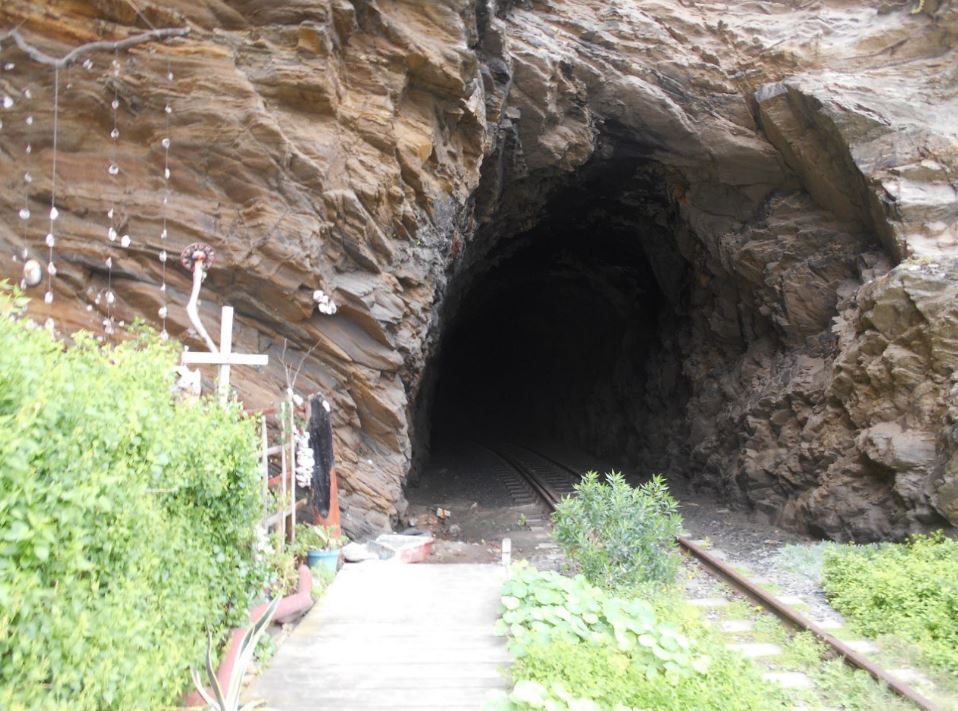 Before we left he asked me a rather strange question asking me my mother's name. I said that it was Kim and he seemed sad. He then told us that he had a friend in England many years ago when he spent time there whose name was Susan. "You look a lot like her," he said to me. "I thought that maybe you were her son. She married an RAF pilot." Sadly Susan was not my mother, but we thanked him for letting us look around his amazing home before heading off down the tunnel and back to the backpackers in which we were staying.
That night Claire and I went to dinner in the town and bumped into Caroline and Anton, a couple of travellers from Austria that we'd seen at Chinsta, Hogsback and Nature's Valley. We've bumped into quite a few people along the Garden Route and Wild Coast. It seems that most travellers are making their way either east or west along the coast, which means you do get to hang out with people at more than one stop. It was a good job that these two were there because Claire and I shared a seafood platter that was gargantuan. We had prawns, fried fish, calamari, muscles and the whole thing came with fries, rice and salad. If it wasn't for Caroline and Anton then we would have eaten most of it ourselves and ended up in quite a bit of pain. After the biggest meal we'd ever seen we made our way back to the backpackers and spent the evening drinking whiskey – it was the only thing that wouldn't make us feel any more full.