Drinking Wine in Stellenbosch
Stellenbosch is an incredibly picturesque town. It is filled with tree lined avenues, quaint little cafes, interesting shops and dotted around its perimeter are plenty of lovely wine farms. It's in the main wine region of South Africa, and that was precisely the reason why we'd made our way there from Cape Town. As soon as we arrived and got settled into our little room, we headed straight out into the town to see if we could get our hands on some wine. Ten minutes later we'd made our way to a nice and busy food and drink market on the outskirts of the town. There were stalls selling everything from Asian food, to your classic South African braai and there was also some live music and the atmosphere was very jovial. It felt like being at a British farmers market in the middle of summer. After spending an hour or so sitting in the sunshine with eating and drinking a couple of crisp glasses of white wine, we decided that it was time to get to a wine tasting. So we hopped in an Uber Taxi and made our way to Spier Vineyard, where we'd heard you could do a wine and chocolate pairing.
We arrived at the tranquil vineyard, with its barn-like bar and pretty little lake, and were seated at a table for two. The wine and chocolate pairing that followed was excellent. We were each given three fancy chocolates of different flavours, that would each be paired with two different wines. The first chocolate was Dark Malted Cherry flavour; the second was a White Cardamom and Passion Fruit; and the third was a White Peppered Plum. We were then shown how to do the tasting, beginning by smelling the chocolate, then the wine, repeating this over and over. The next step was to nibble some of the chocolate, before taking a sip of wine. The two different wines were supposed to make the same chocolate taste very different. And they really did. It was a great little experience and we even ended up buying a bottle – our favourite of the six wines on offer – on our way out. This short hour of chocolate and wine had gotten us in the mood for more. Luckily, we didn't have to wait long as the next day we were heading out on a full day's wine tour!
We awoke the next morning excited about the day ahead. Will, our guide, arrived at 10am, and by 10.30 Claire and I, along with Sandro a German travelling around South Africa alone and a couple of German girls whose names we didn't quite catch, were at a vineyard with a couple of glasses of bubbly sitting in front of us. By 11.30am we'd each tasted around five or six different wines and were already feeling merry. The tour then took us to some more vineyards where we were to do more tasting and Will even stopped off at a few other scenic spots for us to take in the views.
At one stop we got to visit KWV, one of the largest wine suppliers in South Africa, where we were taken on a tour of the facility. We saw thousands of wooden barrels being used to store wines, brandies, ports and more. Some of the barrels were relatively new and small, with their wood still having a light tone to it. And others were gigantic and ancient, their dark wood now only suitable for storing desert wine. The highlight of the tour was most certainly the gigantic room that our guide referred to as 'The Cathedral of Wine'. This huge room, with its raised churchlike ceiling, even had stained glass windows at either end. It was lined on either side with gigantic wooden barrels each one intricately carved with beautiful motifs that represented a timeline of South African wine. After the tour we tasted yet more wine chosen for us by our friendly tour guide, before heading off to the final stop where we were to do a wine and cheese pairing.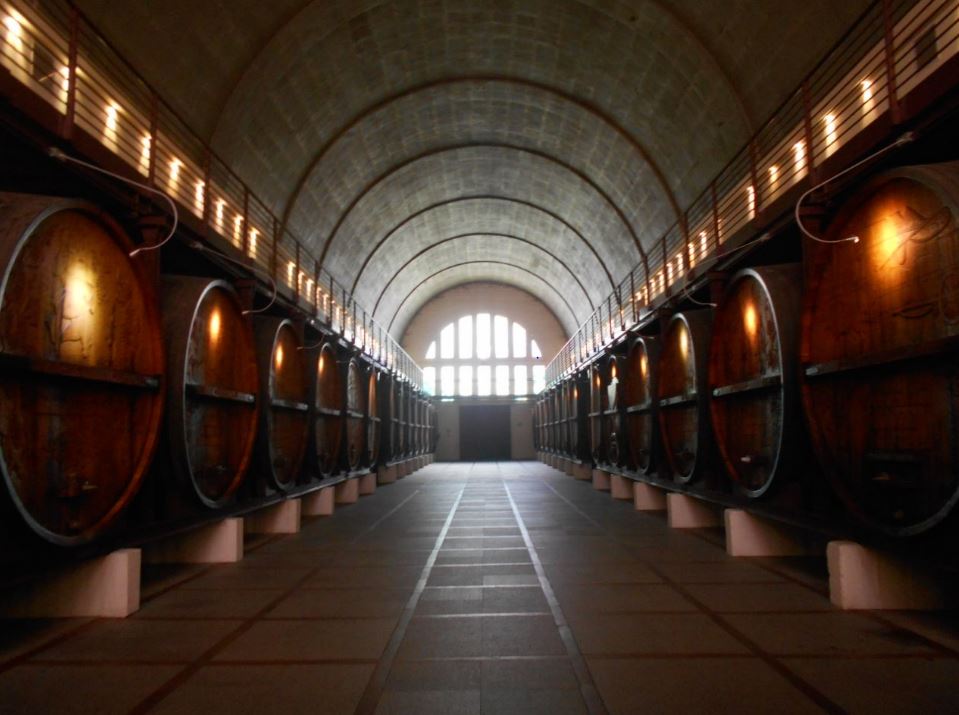 We arrived at the final place feeling a little tipsy, having drunk a fair amount of wine throughout the day. However, that wasn't going to put us off, as this was the one we were looking forward to the most. At the final vineyard we were handed six different cheeses – which were delicious – on a little wooden board and we were also given a number of wines. Just like the chocolate pairing the previous day, we made our way through the cheeses enjoying the wines with them, each one complimenting the other perfectly. I had been slightly sceptical of wine and food pairings, but these few days in Stellenbosch had changed my mind.
The rest of our stay in Stellenbosch saw us chilling out in the town, enjoying the local cafes and bars and eating in nice restaurants.