Nature's Valley
Wild Spirit Backpackers in Nature's Valley was one of the most delightful little spots we'd visited on our trip. The communal living room was inside a nice wooden cabin with a wood fire and comfy sofas. The doors opened out onto the deck, which had a nice rustic bar and plenty of outside seating space looking out over the valley below. The place had a real hippie vibe which came to a head when we were asked if we wanted to join the drum circle on our first night – we didn't. As you made your way from the communal hang out area to the toilets, or over towards the campsite where we were staying in one of their safari tents, you would pass hundreds of different types of flowers. Bright colours and sweet smells were everywhere. There were also around four or five dogs and about eight cats roaming around. All in all, the place felt like something from a children's book.
We'd made our way to Nature's Valley in order to spend a few days in the stunning scenery and had planned to go for a big hike in the area. When we first arrived we were urged to take the thirty minute walk down through the forest to see the waterfall. So we checked in, dropped our stuff off in the tent and then made our way down the hill. The small hike took us down a winding pathway through a thick forest and finally, once we'd made it to the bottom, we came across small pools of crystal clear water. The pools were at different levels and were all trickling into each other. We followed the pools until we finally ended up at the waterfall. Hardly the booming fury of Victoria Falls, this was a nice little stream of water that was running down the front of the steep cliff face. It was so quiet and was the perfect place to sit and relax in the tranquillity of nature for twenty minutes or so before heading back up the hill.
On our first evening, as we were sitting around drinking beers and chatting with the other guests, we got talking to a couple of South African guys. They were both in their forties and had been on a mini trip from their home in Cape Town along the coast. Claire noticed that one of them was clutching a book. She asked him what he was reading and he described the most bizarre book I think either of us had ever come across. I am not going to even attempt to describe what it was, because I have no idea, but he said that it was a book that showed you that literally anything can be proved. He said that you could use science to prove anything, which is absurd. It sounded like a self help book and referenced spirituality a lot. We nodded along. Then, in an attempt to move away from the topic, I asked his friend what he was reading. "It's a book about how life starts at 40," he said. "I have just turned forty and this book is all about how your life realigns itself at 40. When you hit forty, your mind goes through a lot of the same things that happened when you were 12, apparently." He didn't look convinced. In fact, he looked a bit embarrassed at having to explain the book to us. To break the ice I jokingly asked them both if they were on some kind of spiritual pilgrimage to which the first man said: "Well, yes. Sort of. We've both recently got divorced so needed to get away and clear our heads."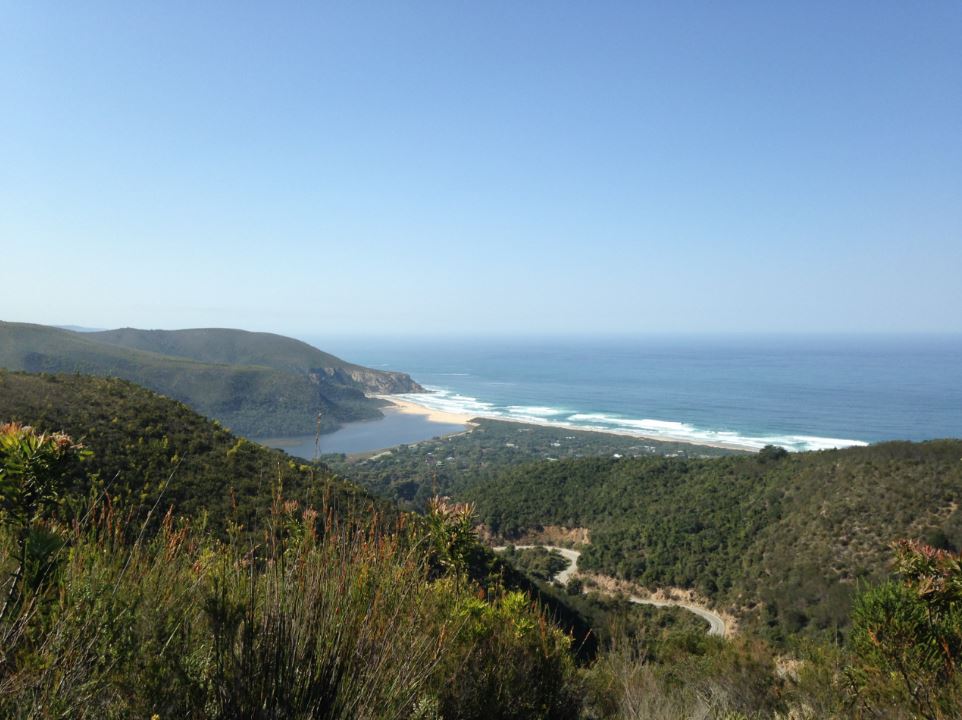 The next day Claire and I awoke and decided to head out for a long day's hike. We took a look at the map which showed us a route we could take and then made our way out. We dropped the car off at a picnic area and then started heading down towards the beach. Our walk was to take us across rolling hillsides, before we'd turn off and wave through the woods, and finally out onto the beach in the town of Nature's Valley. After about two minutes of walking along the hillsides, with the sea out in the distance, a snake made us jump. It was hanging in one of the bushes that lined the edge of the pathway and was startled by our presence. The animal shot up the bush in an attempt to get away from us. We weren't sure if it was poisonous or not, but after describing it to one of the locals back at the hostel later that night, we found out that it was. It was a good job we kept our distance.
After making our way down to sea level the next step of the hike took us through a winding wood where giant trees stretched up to the sky. Whilst we were strolling through the wood we crossed a dried up stream and got to see plenty more wildlife including woodpeckers, wild parrots and two different types of antelope, none of which we were expecting to spot. The woodpeckers were particularly cool as you could watch them rapidly hammering their beaks against the trunks of trees high up in the sky. When we finally made it out of the wood we came across a nice sleepy estuary surrounded by mountains and hillsides. After stopping for a few minutes to soak in just how quiet and peaceful the scene was we made our way to the gigantic and empty beach. The white sand stretched out on either side for miles and miles and we were joined on this gigantic beach by about four other people, the place was desolate.
Claire and I then made our way back to the car taking a different route. We walked through more forests and up some winding steep walkways. Before we made it to the top we came across a gap in the shrubbery and were presented with one of the most breath-taking views we'd seen on this entire trip. We could see down the coastline for miles and miles, with the quaint town of Nature's Valley in the foreground and mountains in the distance pushing up into the sky. The view stopped us in our tracks and we spent five minutes simply standing and staring.
We were sad to leave the valley after just two days, but the next stop was calling us. So, we woke up in the morning, stopped off for some nice breakfast at a local farm around the corner from Wild Spirit, and then made our way down to a coastal town called Wilderness.