Arriving in Johannesburg
Johannesburg is a city with a bad reputation and many people and publications list it in their top ten lists of most dangerous places to go. You only need to head there to get a good idea of just how dangerous people think it is. As soon as we told people we were making our way to Johannesburg we had plenty of messages from friends and family telling us all they knew about it. We weren't to drive at night, we weren't to stop at traffic lights, we were to be careful at all times so we don't get robbed, mugged, shot or stabbed. However, after spending just one day in the city we were not only at ease, but we'd fallen in love with Jo'burg.
After getting a 16 hour luxury sleeper coach from Masvingo in Zimbabwe, Claire and I arrived in Johannesburg around 9am in the morning. The backpackers we were staying at was called Curiocity and was in the recently redeveloped area of Maboneng. The backpackers itself was incredibly cool, with an amazing downstairs bar and hang out area that had a door out onto the street. It was usually pretty busy with half of the people made up of travellers staying at the backpackers, and the other half being made up of locals hanging out. Jo'burg is a trendy place, specifically in the part of town we were in. Maboneng is full of art galleries, clothes shops, interesting cafes and amazing restaurants. There were also open warehouse spaces that play host to a range of markets and pop up bars. It was like Shoreditch.
Claire and I went on a walking tour of the area with Teppo, a local guy born and bred in the nearby township of Soweto, and his assistant Victor, also from Sowetto. The two guys were great fun, brilliant tour guides and really nice guys. Teppo had so much knowledge on the local area, as did Victor who would often add to Teppo's information with a humorous twist. The tour took us through a number of galleries and other establishments before we made our way into a local witchdoctor market. All of the traditional healers in the town were given spots in this walled off market where they could trade and carry out their practices. We were unable to take photos in this area, which is a shame as we came across a huge number of weird and wonderful artefacts hanging in the shop windows. There were half rotted pieces of animals, jars with mouldy mushrooms and other strange objects. There were also lion and leopard skins handing in some of the shop doorways (which is probably why we weren't allowed to take photos) and the whole market had a rather odd smell. It looked like the perfect place to stage a scene from a horror movie.
After we made our way out of the market we came across some food stalls where Teppo had arranged for us to try some local cuisine. He asked us if we wanted to know what we were eating before or after we had eaten it, and we opted to find out after we'd finished. The lady from the food stall came over with a tray. On the tray was a bowl of pap, which is the South African name for the maize and water concoction that we'd eaten in many other countries (Uganda: Pocho, Tanzania: Ugali, Malawi: Nseema, Zambia: Nshima) and a plate of indiscriminate meat. We all dived in and the meat was pretty nice, even if it was a bit chewy in places and hairy in others. It turned out it was cow head. We were eating parts of the cow's head, cheek, tongue and brain.
The ladies who worked on the food stall all had bright orange faces which made them look like they'd been wearing face packs. Claire asked Teppo what the face packs were for and he told as that the girls had covered their faces with mud to protect their skin from the heat of the fires that they were cooking over.
The next stop on our tour took us to what Teppo told us was the largest second hand book store in the southern hemisphere. He warned us before we went in that a slight wrong move could lead to a tower of books toppling over, and he wasn't wrong. Inside were seven stories all full of piles and piles of books. The place looked like there was no organisation at all, though I am sure that there was at least a slight piece of thought put into where the books were placed. But it was so crowded that I was half expecting to find a couple of bodies in amongst the mess. We wandered around for half an hour weaving our way through the mountains of books and in amongst the mess I managed to find a book I'd been after for weeks, and we also found Carrie, Stephen King's classic, for Claire. Most of the books were pretty cheap, however, there were also some books that were around a hundred years old and these ones cost a pretty penny. There were even a few copies of Adolf Hitler's Mein Kampf, one of which cost eight hundred and fifty U.S Dollars. I took the two books I had chosen into the office and paid the two brothers who owned the shop. They were both middle aged and white, and both had large round bellies and big white facial hair. They were also both rather eccentric, which I guess you'd have to be to spend forty years running a place as chaotic and seemingly unorganised, yet beautiful and bountiful, as their shop was.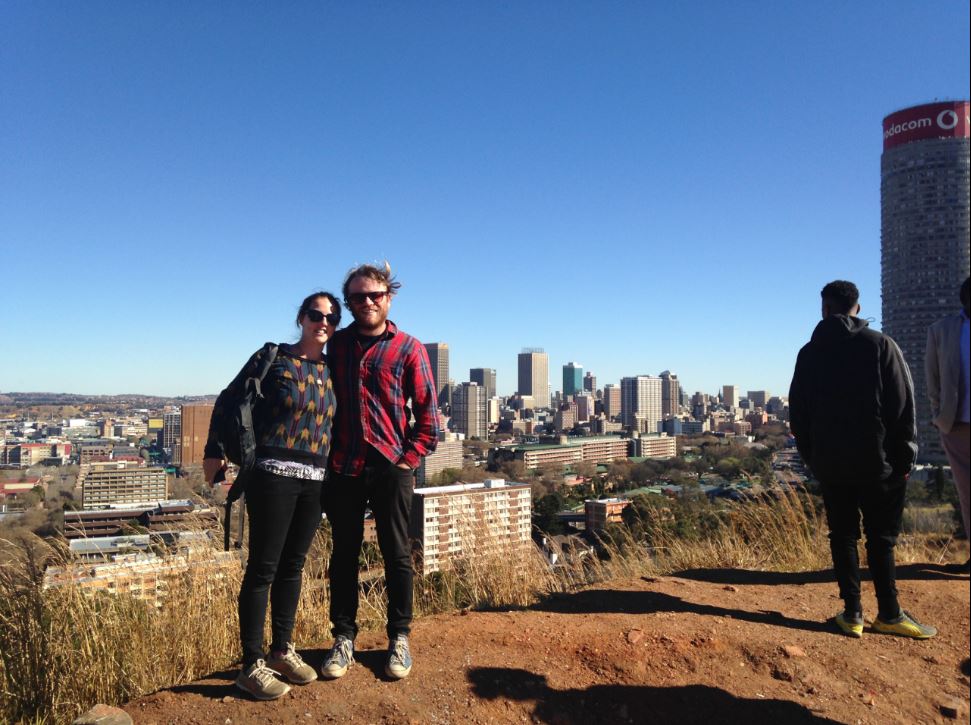 After leaving the book shop we made our way to a gigantic building, that Teppo told us was one of the tallest in Africa. When we got to the top we had panoramic views of the surrounding area and thanks to the flat terrain we could see for miles. Down below us was the city of Johannesburg in all of its beauty. We could see the expensive northern part of town with its large tower blocks and the abandoned Carlton Hotel nearby that stood at around twenty stories of entirely empty rooms. We could also see the Soccer City Stadium over in Soweto where the 2010 World Cup Final was held and as we walked to the other side of the tower we could also see Ellis Park, the national rugby stadium.
I asked Teppo if there were any games on at any of the stadiums this week and he turned to me and told me that the biggest game in African football was taking place in just two days. At the Soccer City Stadium, in two days time, the Kaiser Chiefs were taking on local rivals the Orlando Pirates. They are the two biggest football teams in South Africa and pretty much the whole continent. I started to get excited and asked Teppo if he'd be able to get Claire and I tickets. However, he said that the 95,000 seater stadium sold out in just one day. I couldn't imagine how good the atmosphere would've been in a stadium that big full of South African football fanatics cheering on two bitter rivals in the opening game of the season. Not to be deterred I then asked Teppo if there were any games on at Ellis Park. He perked up and told us that on the same day as the Chiefs and Pirates match, Ellis Park was hosting a semi final in an intercontinental rugby competition where the South African champions, The Lions, were taking on the New Zealand champions, The Highlanders. And, to top it off, Teppo had a friend who could get us tickets!
After the tower, on the way back to the backpackers lodge, we visited the building that used to be used as the office for Nelson Mandela and Oliver Tembo's law firm, before jumping on the bus. The bus then took us through the most dangerous neighbourhood in Johannesburg, that Teppo said was the only place where he'd feel uneasy. After stopping off at a couple more spots we made our way back to the backpackers for some beers and a few games of pool.