Entering Zimbabwe
Zimbabwe is a country that has gone through its fair share of hardships over the last century and beyond. And as Claire and I were preparing to cross over into the country formerly known as Rhodesia, from Zambia, things were yet again rather unstable. Zimbabwe's national currency is the US Dollar and due to a financial crisis there is a real shortage of dollars in the country. We were told that most ATMs are only set up to accept local people's cards, so had to stock up on cash before we left Zambia. We knew we were only going to spend around ten days in Zimbabwe so didn't need to get too many dollars. However, it's still not an ideal situation having to walk around with all that money on you, knowing that if you do spend it all or lose some, there's no way to get any more. There have also been a number of protests across the country, instigated by a bishop and carried out by those individuals who are unhappy with Robert Mugabe's rule. The 92-year-old leader of the nation is still in charge and many people are fed up with his never ending tenure.
However, that wasn't going to put us off. We had heard some lovely things about Zimbabwe and it was to be our next stop. The border crossing from Zambia to Zimbabwe is located right on the edge of Victoria Falls. We could hear the boom of the water as we were passing through immigration on the Zambia side and after our passports were stamped and we strolled into no man's land between the two countries, we were presented with another fantastic view of the Smoke That Thunders. Linking the two countries is a large bridge that was built a long time ago as a part of Cecil Rhodes' plan to create a British train line from Cape Town to Cairo in colonial times. The bridge crosses over the river and offers a great view of the falls. We slowly strolled across, loaded up with our bags and a couple of hundred metres later we'd both made our way to the immigration office on the Zimbabwean side. We passed through immigration without a hitch, paying the fifty five dollars each for the visa and walked the one kilometre into the beautiful tourist town of Victoria Falls.
If we were expecting Zimbabwe to be a bit chaotic and dishevelled due to the current issues, then Victoria Falls was most certainly a shock to our system. The town was very quaint and very nice. We were set to catch an overnight train from Victoria Falls to a town called Bulawayo that night so we stopped in a really pretty café for some lunch and drinks before our train departed. Once we were settled in at the café I popped into the town to buy some bottles of water for our train ride. I made my way into an outdoor shopping centre and was about to head beneath a raised walkway when something hit me. It was a sweet still in its wrapper. Then another fell next to me on the ground and then another. I looked around and few people were stopped gazing upwards and smiling. I looked up and above me was a woman with some shopping, and a big monkey was stood on the hand railing, trying to steal her bags from her. She was screaming throwing handfuls of sweets at the animal to try and get it to leave her alone. Eventually it swung over the edge and jumped off onto another railing.
After some beers we walked to the train station and boarded our train, settling in to our cabin where we'd spend the night. We'd already taken one overnight train on this trip, from Dar es Salaam to Mbeya in Tanzania and that train was modern, clean, and full of amenities. However, this train was rather different. This train was old, tatty and a little bit smelly in places, but we weren't complaining. We had our own little cabin – that looked a bit like a jail cell – with a fold down sink which we were never going to use and two bunks. We sat down and chatted until it got dark before trying to sleep, which was hard because the cabin was absolutely freezing.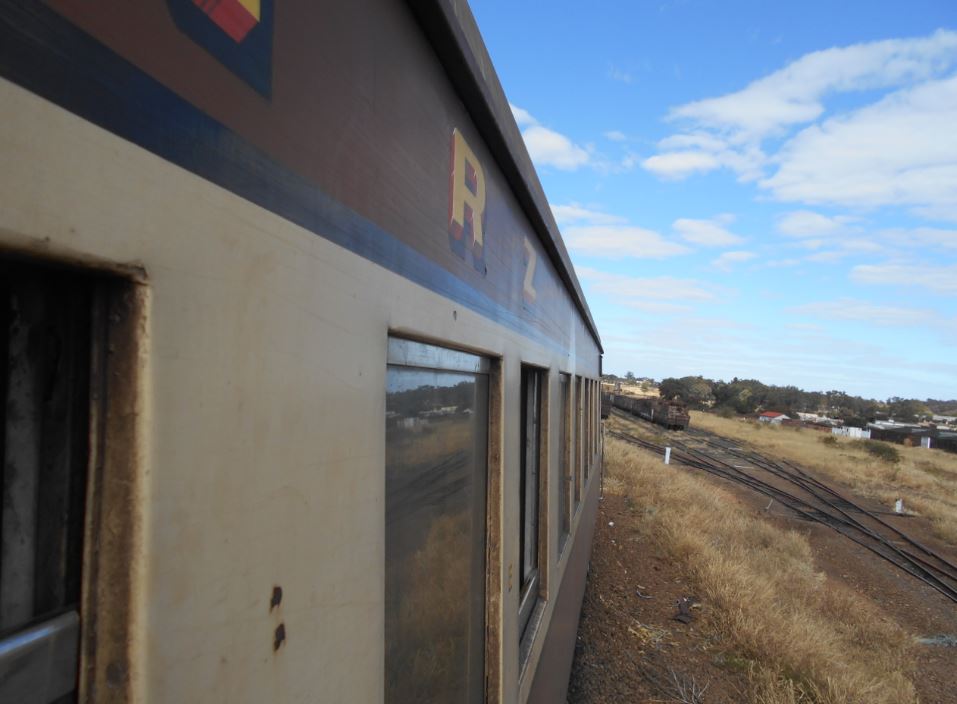 The train itself was almost empty, which felt weird, but we were lucky that it was running at all. A few people we spoke to said that the rail staff hadn't been paid in a long time and the trains hadn't run for a while. Along the way we kept stopping, whether we were breaking down or it was scheduled stops I don't know, but every now and then the brakes would screech and we'd grind to a halt in the middle of nowhere. And, every time the train started again it would go from absolutely stationary to suddenly jolting forward with a really loud bang. It sounded like we were being rammed by another train. However, come the morning the sun was shining through the window and we were approaching Bulawayo, the town we'd be spending the next few nights in as we visited the nearby Matopos National Park. As we slowly made our way nearer to the train station Claire and I looked out the window at the parched yellow and brown countryside. A few moments later we'd arrived in the town.