Chimanimani up in the mountains
The lodge was gorgeous. Clare and I had spent all day travelling eastwards into the mountains, to the village of Chimanimani, and then made our way to the lodge that had been recommended to us by Anne Bruce the day previous in Mutare. We arrived and Michael the member of staff showed us around and the place blew us away. The bedrooms, living room and surrounding grounds were nicer than anything we'd seen in a long time. There were horses, sheep, chickens and geese wandering around the place in what was a working farm as well as a beautiful place available for holiday makers. Claire and I fell in love with the lodge instantly and decided there and then to extend our stay by at least one other night. However, as we were about to settle in Michael dropped a bomb shell on us. The place was, it turned out, fully booked. We were devastated. We'd come all that way for that place and it was full! Tembi the owner turned up after twenty minutes or so and apologised profusely. She then mentioned another place that she was managing a few kilometres away saying that she would let us have it for the same price as her home. Then, as she felt bad, she offered to drive us there.
We pulled up to the cottage and were instantly blown away. Claire and I had landed on our feet. The place was huge. It was a giant thatched cottage with plenty of space including a lovely living area and an amazing attic bedroom with an en suite. We were introduced to Timothy, Michael's brother, who looks after the place and lives in a miniature version of the cottage situated at the gate. He got us settled in, showed us the quirks of the place and lit the fire for us – it was starting to get very cold. Claire and I settled in for the night unable to stop grinning at just how lucky we'd gotten. The place was designed by a local artists who rents it out and it was so beautiful throughout with an amazing staircase that incorporated a lovely tree.
Chimanimani was a gorgeous place surrounded by luscious green mountains and the next day we awoke and strolled down to the village in order to get some food supplies so we could cook up a nice meal that evening. After getting back we dropped the food off and made our way towards the national park where we were going on a hike to see Bridal Vail Falls, yet another waterfall. As we strolled towards the park, with the hot sun beaming down, we went past a mini farm. As we approached we heard loud, aggressive barking and looked up to see two dogs charging our way. We were used to this, and most of the time you just ignore the dogs and walk on by and they leave you alone. Not this time. We sped up a little trying to get past but one of the dogs went right up to Claire and bit her on the leg. Unsure how to react we continued walking and the dog did it again! Eventually we made our way out of sight of the farm and the dogs left us alone, but we were pretty shaken by the encounter. The dog hadn't broken her skin but it had bruised her leg quite a bit.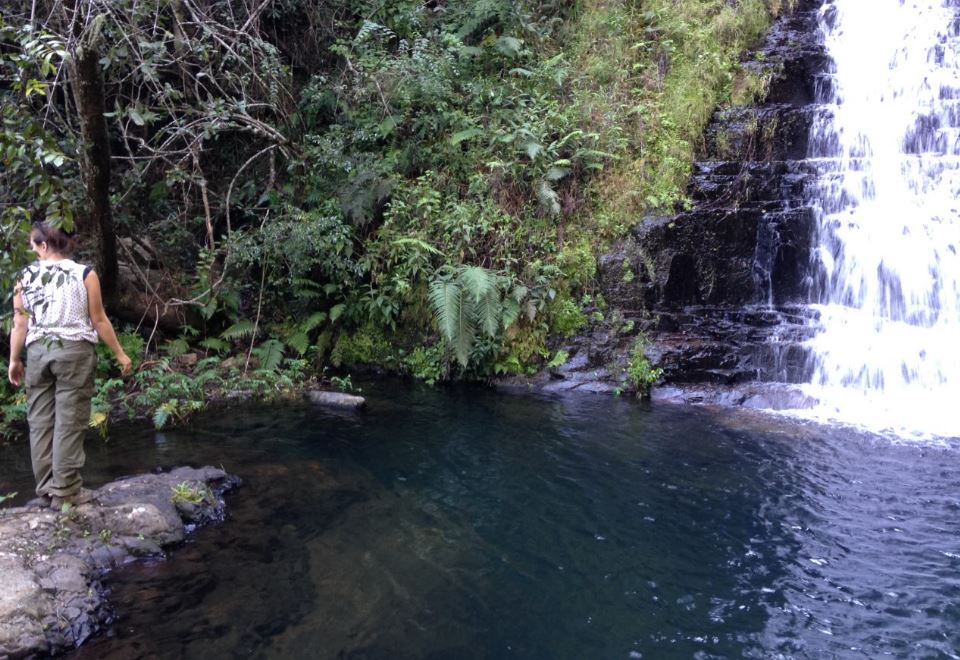 About fifty metres after the farm where the dogs were, we'd made it to the entrance to the park. We paid our entry fee and told the guard stationed at the gate about the dog. He said that when it came time for us to head back he'd come with us and talk to the owners. He said that the path is often used by tourists heading to see the falls, and dogs like that are dangerous. He mentioned that it should be shot… We didn't want this to happen, so suggested that it be tied up instead.
After speaking to the guard, we made our way into the park. The path we took was stunning. We wound our way along the mountain's edge beneath a pure bright blue sky towards the falls. After an hour or so we'd made it to Bridal Vail Falls, where we then began our ascent to the source. We climbed the steep mountain, stopping every now and then to take in the view (this is code for getting our breath back). Once we'd made it to the top we were presented with amazing views allowing us to see for miles. We also made our way to a number of pools created by the falls, which were staggered meaning each different part offered a completely different scene.
On our way back the guard, also called Timothy, came with us and again the dog charged, barking loudly. However, this time Timothy stood up and shouted. The dog froze. We walked past, thanking him for his help, and left him to speak to the owner. Claire dropped the giant rock she'd picked up and we made our way back to the lodge.