Home comforts in Lusaka
South Luangwa National Park is, it turns out, a fair distance from the other parts of Zambia that Claire and I wanted to visit. That's why we awoke at 2am to catch a 3am coach down to the capital city Lusaka. We got up and crept through the campsite with our little flashlights, hoping not to bump into one of the hippos that graze on the grass in the camp at night. We were lucky. There were a few hippos around, but none that were close enough for us to have to worry. Half an hour later we were sat on the coach settling in for a very long drive to the city.
Twelve hours later and we'd made our way into Lusaka, where we'd be staying for a couple of days before heading to Livingstone – a town on the border with Zimbabwe that is home to Victoria Falls. Lusaka is a very developed capital city. It has a number of huge shiny malls, full of shops and fast food chains that we recognised. There were KFCs, Subways, Nandos, and even a Woolworths – a chain that seems to be doing OK here in east and southern Africa. All of the parts of the city that we saw were pretty snazzy and walking around the malls was rather surreal. It had been a while since we'd seen anything quite like these – they were even nicer than Churchill Square in Brighton.
On our first evening in Lusaka, Claire and I went for a stroll to a local Indian restaurant where we ate some fantastic food. And the next day we woke up early to wander around the city and see what was on offer. Our first stop was a fantastic little breakfast spot called Deli Cafe where we ate some amazing food and had a nice coffee. It was a fancy place. They even had HP Brown Sauce for me to use on my humongous fry up toasty, which made me very happy. Claire had a mountain of pancakes and bacon too. It's safe to say our first breakfast in Lusaka was pretty decadent and was nothing like anything we'd eaten in a long time. And whilst the rest of our stay in the city wasn't as lavish or over the top, it was rather odd compared to most of the other places we'd visited on this trip. For starters, we managed to go to the cinema one evening. The cinema! We'd not been to the cinema since England and were ecstatic to see that they were showing the sequel to Finding Nemo on the big screen down town. Sadly the film was pretty poor, not coming close to the original, but that didn't dampen our spirits – we'd been to the cinema!
In order to get to the cinema we had to get a cab. We jumped in the back and said hello to our driver who we noticed was watching Fawlty Towers on his iPad. I asked him about it. "I love Fawlty Towers! They used to show it on our national television station here in Zambia, but they don't anymore. I love Basil. He talks so fast" he said with a chuckle. It turns out that they also used to show the television comedy series 'Allo Allo', which our driver was also a huge fan of.
After spending the next day wandering around the city some more, in an attempt to get our hands on some US Dollars to take with us to Zimbabwe, we then went for yet another western experience having dinner at Nandos. I say western experience because I was surprised to see a Nandos down in Zambia, but I am actually completely incorrect. Nandos is a South African chain, so we were actually far closer to the restaurant's roots than we ever were back home! Though, it was a little home comfort, a nostalgic shot in the arm that both of us really enjoyed.
Our stay in Lusaka was pretty short, and not that eventful. It's a nice city that is pretty developed and has some great shopping facilities, however, there wasn't that much to keep us busy. So, after a few nights, we hopped on another coach heading south, to Livingstone, where we'd get to see Victoria Falls, one of the Seven Natural Wonders of the World.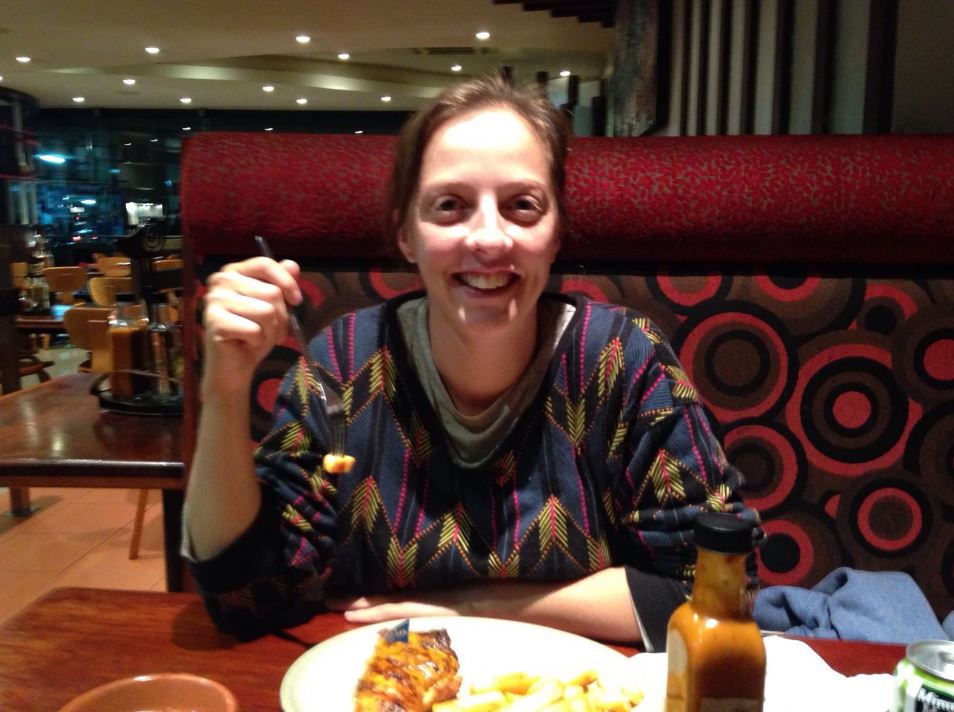 Claire enjoying her Nandos!