Our first taste of Kampala
"I love Museveni" said Joseph our quiet but chatty driver as he took us from the Red Chilli Hideaway into the centre of Kampala, Uganda's capital city. Museveni is the current president of Uganda who has been in power for some 30 years and looks to be set to remain in power after the elections take place this February. Almost all of the exposed walls around town are plastered with campaign posters. There seem to be hundreds of men and women running for different roles in parliament. It seems politician is a very popular choice of career here in Uganda…
Joseph showed us some sights along the way including the decadent home of President Museveni and the road down which the Pope himself took a stroll some months previous. He also showed us the landing strip where Museveni first entered Kampala after becoming president. Joseph was most certainly a big fan of Museveni…
It was an enjoyable trip into town – for me. As I listened to Joseph's off the cuff tour of Kampala, Claire was not feeling too great. We'd taken our malaria tablets on an empty stomach, hoping to get some breakfast in town and Claire's wasn't sitting well. She threw up in the bag I had packed full of all of my electricals. Luckily I emptied it first. We then stopped at Barclays to draw out some Shillings and Claire had another chance to throw up the last of the water in her stomach. After that we were off on our way and Claire felt right as rain.
Kampala is a busy place to say the least and one that is definitely worth exploring if you get the time. The roads are fantastically alive with two lanes often becoming four as people jostle for position and overtake whenever they see fit. Drivers beep their horns, motorbikes are loaded with people – some of which are carrying giant loads – and pedestrians dart out into the road to make their way to the other side. Despite the chaotic roads, with their potholes and cracked edges, and the crumbling pavements which are often home to random holes and six foot drops, it is hard to not love Kampala. Though we never made it into the very centre of the city where I hear it is even more chaotic. That is for another time…
One other thing that struck Claire and I so much was just how friendly people in the capital are. It was a manic day, with people everywhere, however, everyone we asked was happy to offer us a helping hand in finding our way around. Even the boda boda riders, the men on motorbikes who are constantly pulling up to see if you want a ride to your destination for a small fee, were almost always happily wishing us well after we had politely declined their offer.
After some breakfast and a stroll around Kampala, Claire and I met up with Charles. Charles Wamala, is a friend of a friend and we had been put in touch so he could show us around. Charles is a fascinating person, originally from Uganda he has spent years living in South Africa, China and now Kenya where he spends most of his time due to business. I could write forever about how interesting Charles is, with his encyclopaedic knowledge of Ugandan history and global politics in general, but I will save that for next time we meet him when I get the chance to get my dictaphone out and take down what he has to say.
As well as being an engrossing storyteller, Charles was also incredibly funny, kind and went out of his way to ensure that we had a great day. He drove us around in some serious traffic and sweltering heat to take us to a place called 2K Restaurant, where we could try some proper authentic Ugandan food. This was joy to our ears seeing as so far we had eaten pizza, toasted sandwiches, fries, fried eggs, and the local favourite the Ugandan Rolex (an omelette-in -a- chapatti).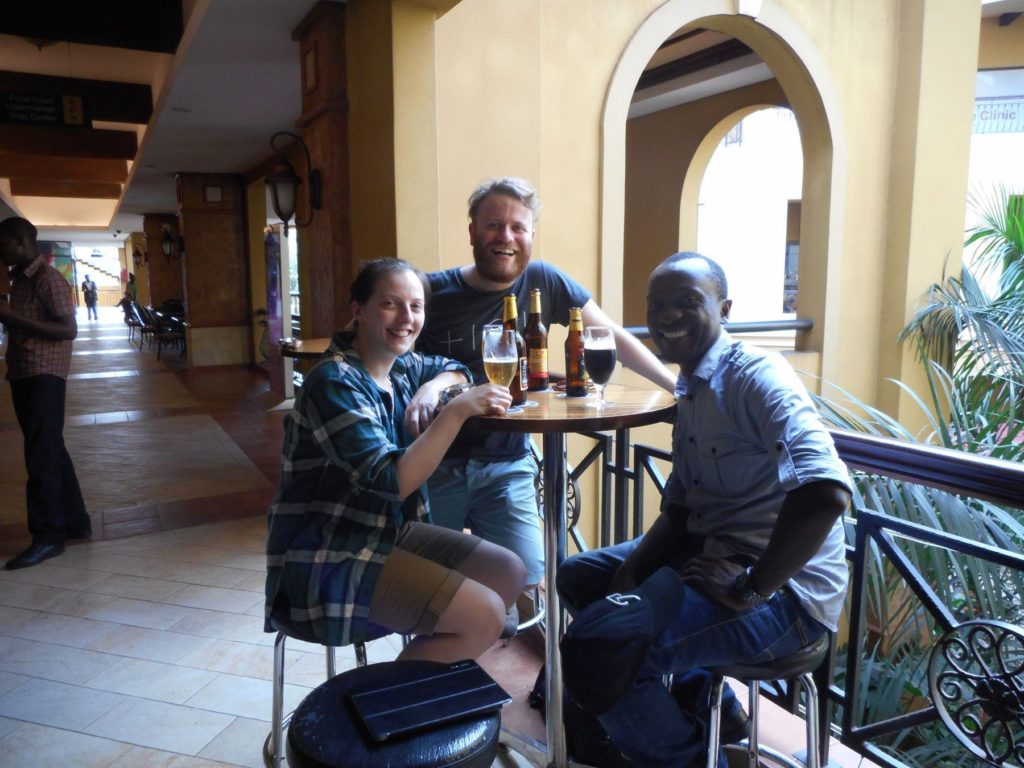 A beer with Charles.
We were excited about lunch and weren't disappointed. Charles ordered a bunch of dishes and we tucked in. We ate some delicious Ugandan-style baked beans, pilau rice, some plantain, roasted pumpkin, cocoa yams, some peas in a curry-like sauce, a bright white maize concoction that I need to look up the name of and the piece du resistance – some smoked fish in a purple peanut sauce. It's safe to say we were stuffed afterwards. But there was still room for a beer.
We jumped back into Charles' car and made our way through some more traffic – seems to be a running theme of Kampala this – to a mall not too far from our hostel. Once inside we grabbed ourselves some beers and took some photos. Charles was sure to remove the beers from shot for the second round of photos so he could show them to his Muslim friends, making us and the waitress chuckle in the process.
There are many things about Kampala that make you chuckle. One of my favourites is the way random people seem to take it upon themselves to direct traffic. At one point a man in a tatty pink t-shirt ran into the road during a bottleneck and started guiding traffic in an attempt to alleviate the situation. This would have been perfectly fine if he wasn't 100% contradicting the signals being given by the uniformed traffic officer stood two feet behind him.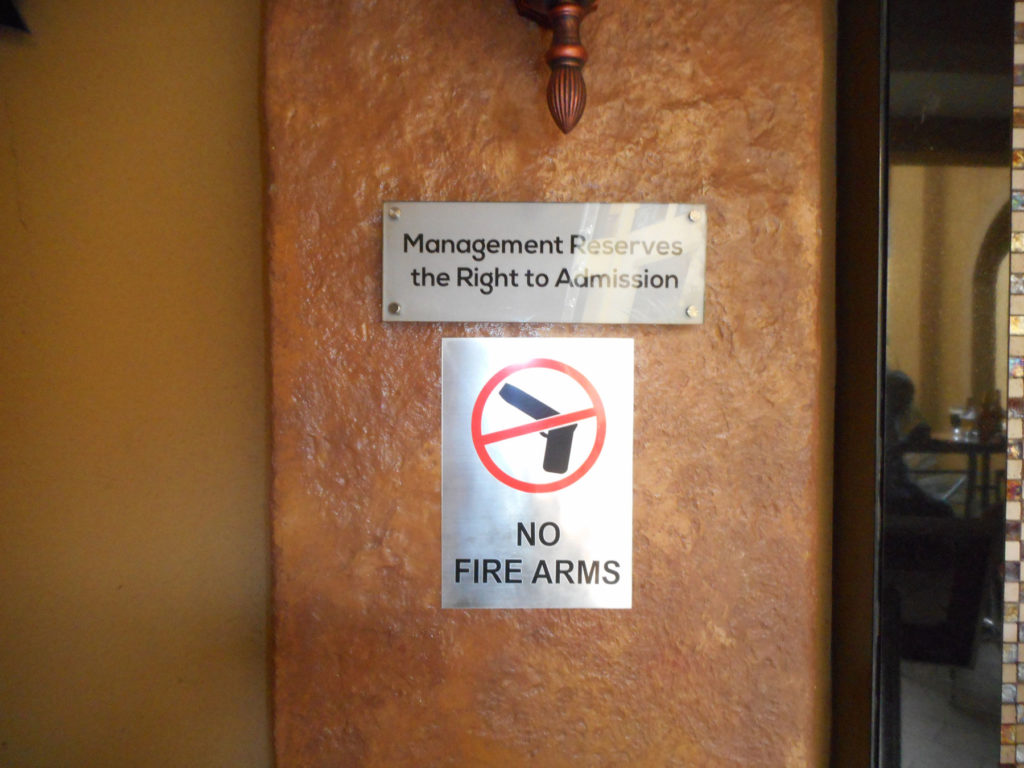 No firearms in the bar!
After more driving around the Kampala roads, Claire and I then jumped out of Charles' car on the way home saying we could walk the rest of the route. Before we got out, however, we had arranged for the three of us to go on a road trip to one of the national parks when Charles comes back from Nairobi next. He promises to purchase a tent from China so he can slum it and camp with us.
On our walk home we followed signs for our hostel through a rustic area of Kampala, called Mutungo, all the way until said signs disappeared. However, as we have discovered in our short stint here, if you get lost, simply ask someone and they are more than happy to help. One local noticed from a far that we were lost, and ran across the road pointing us in the right direction before walking with us for 10 minutes professing his love for Americans. We told him we were English, but that didn't matter one bit. "I love them all the same." were his exact words. He seemed incredibly happy just to help.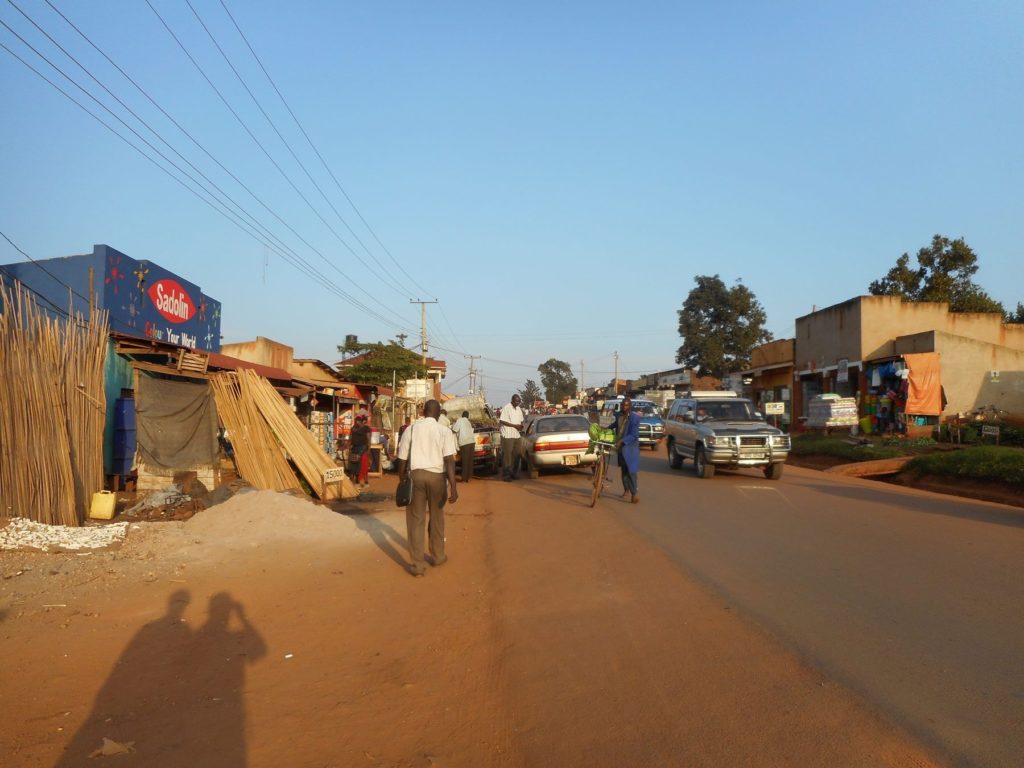 Some of Mutungo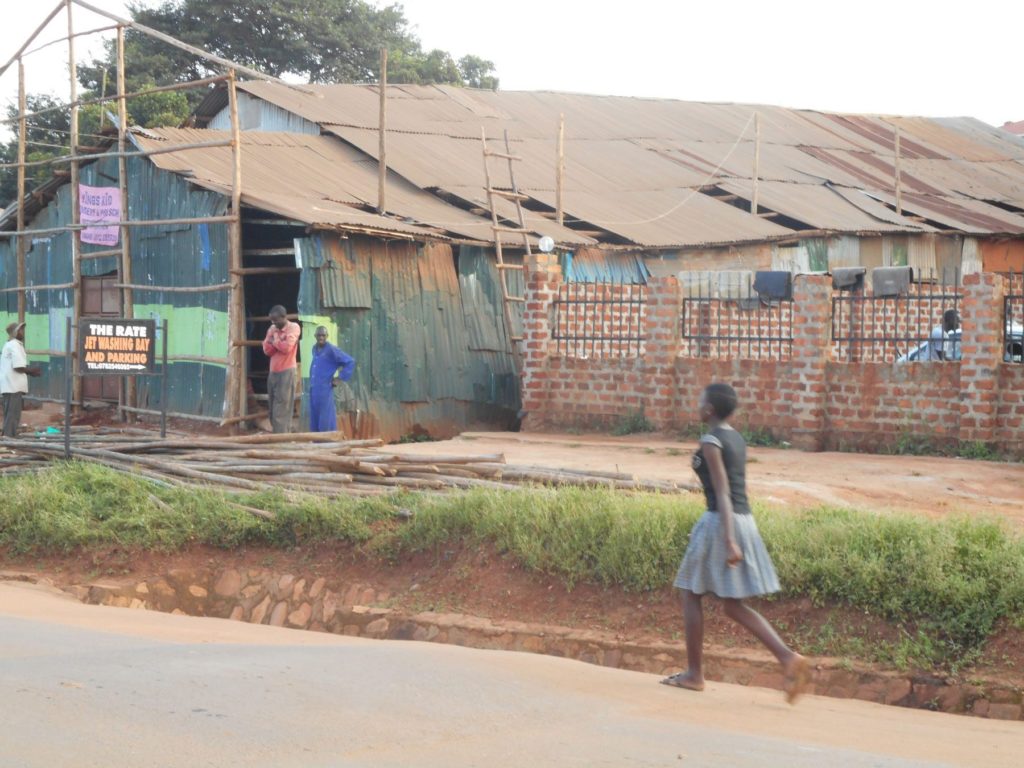 More Mutungo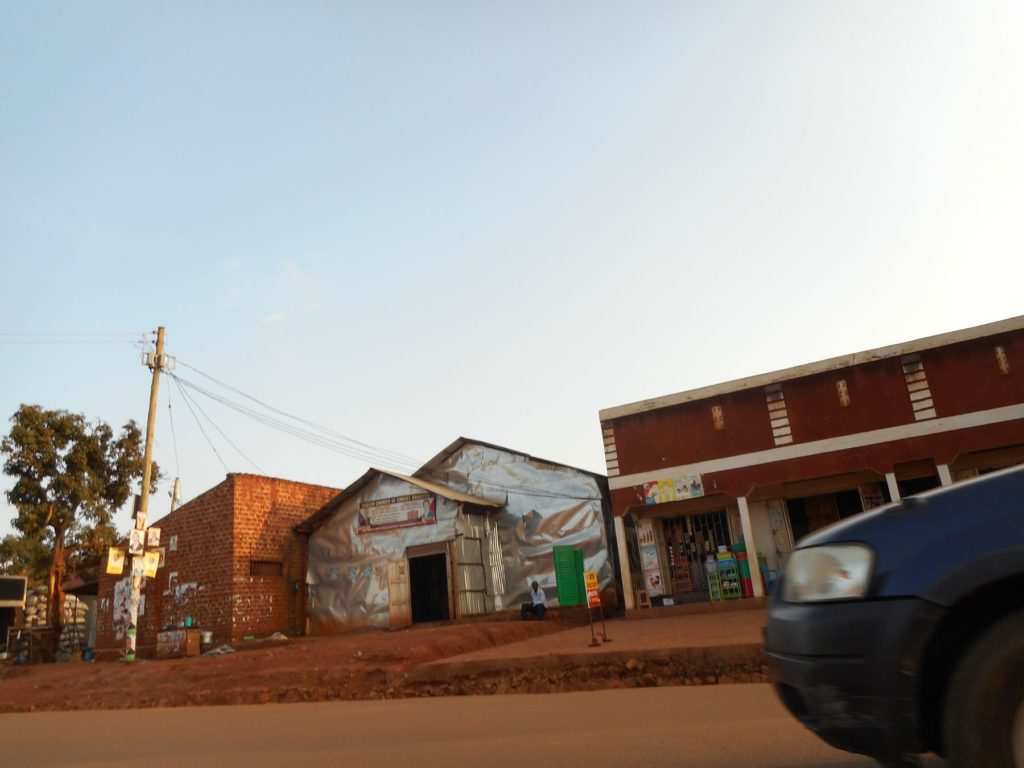 Tin church in Mutungo
Our stroll through Mutungo was delightful. The sun was setting and the orange light of early evening bathed the dusty red clay roads and ramshackle shops, bars and churches along the side of the streets. Venders were out selling wonderfully smelling barbecued meats, whilst others had fish on their stands that weren't as appetising due to the fact that you could barely see the fish through the sea of flies. Children played and some of the churches were also in action. It was a lovely taste of a seemingly more rustic part of the capital where there was so much to see. We think another stroll into these outer regions of the capital, away from the mania of the city centre, is in order.