Moon Weasel and Space Monkey
A number of years ago in the not too distant past, an American soldier whose name I can't remember was stationed in Afghanistan. During his time there he and many other troops befriended local street dogs that were attracted to the American camps due to the promise of scraps of food. Apparently many soldiers took in these canines and used them as a source of company during the trying times that most soldiers go through when on tour.
This particular troop, again I cannot remember his name, had befriended a dog and cared for it whilst he was in camp. He would return back after duty and the dog would be waiting for him. Their relationship blossomed as time went on until the time came for the soldier and his fellow troops to move camp to a new location 70km away. The dog was not allowed along for the ride to the pair went their separate ways.
The troop was devastated. The relationship he had built with this dog over the weeks they had been together had offered him a slice of warmth and something to care for in what must have been a rather lonely time. A few weeks into his new post a fellow troop came to him with the news that someone was here to see him. And you guessed it, the same dog had made its way across the arid barren lands of Afghanistan, travelling some 70km, to return to its new found 'owner'. This may seem like a soppy story, and one that I admit is hard to believe, but this is what Kendra told Claire and I. She told us this in her car on our way to Uganda's only centre for looking after stray and abandoned dogs (and cats), the USPCA. More about Kendra later…
The powers that be in the army were so impressed by the resilience of this dog, which had arrived dehydrated and malnourished, that they allowed the troop to take it home with him when his tour of Afghanistan was over. This then lead to a number of dogs being sent from military stations all over the world back to the USA to be with the US military troops that cared for them so much when stationed.
And so, Claire and I were on our way to pick up two puppies that were soon to be sent to the USA from here in Uganda. These two puppies were originally in Sudan where the US army is currently stationed and they had been in the care of a soldier who wanted them back home in the US.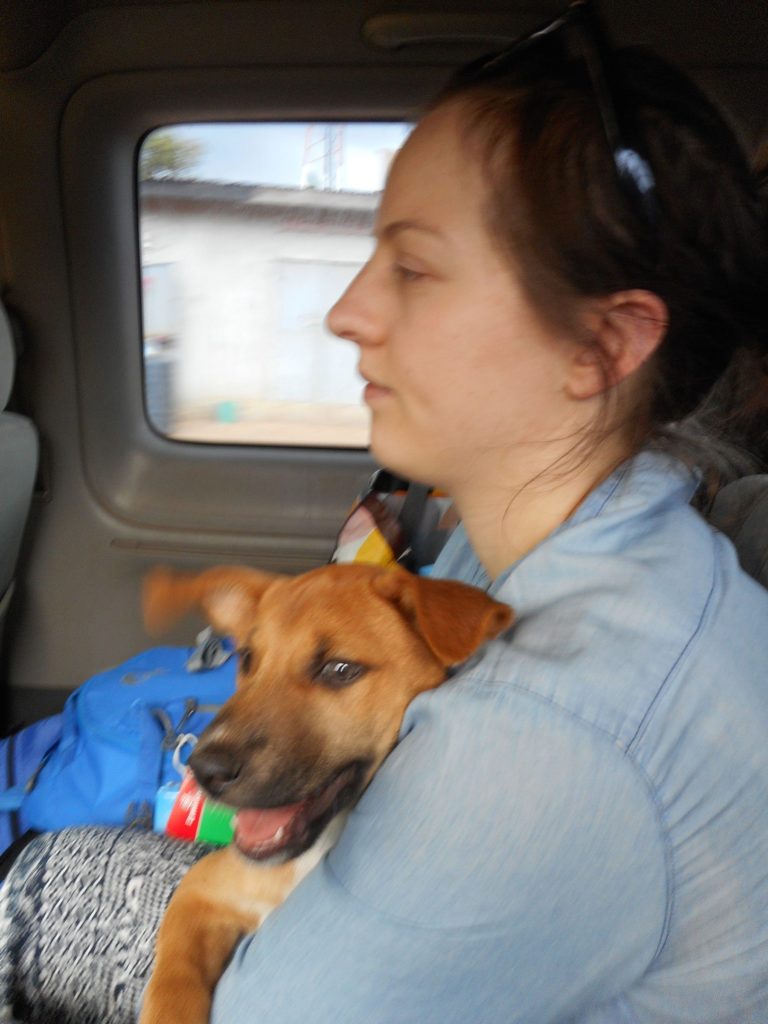 Claire with one of the puppies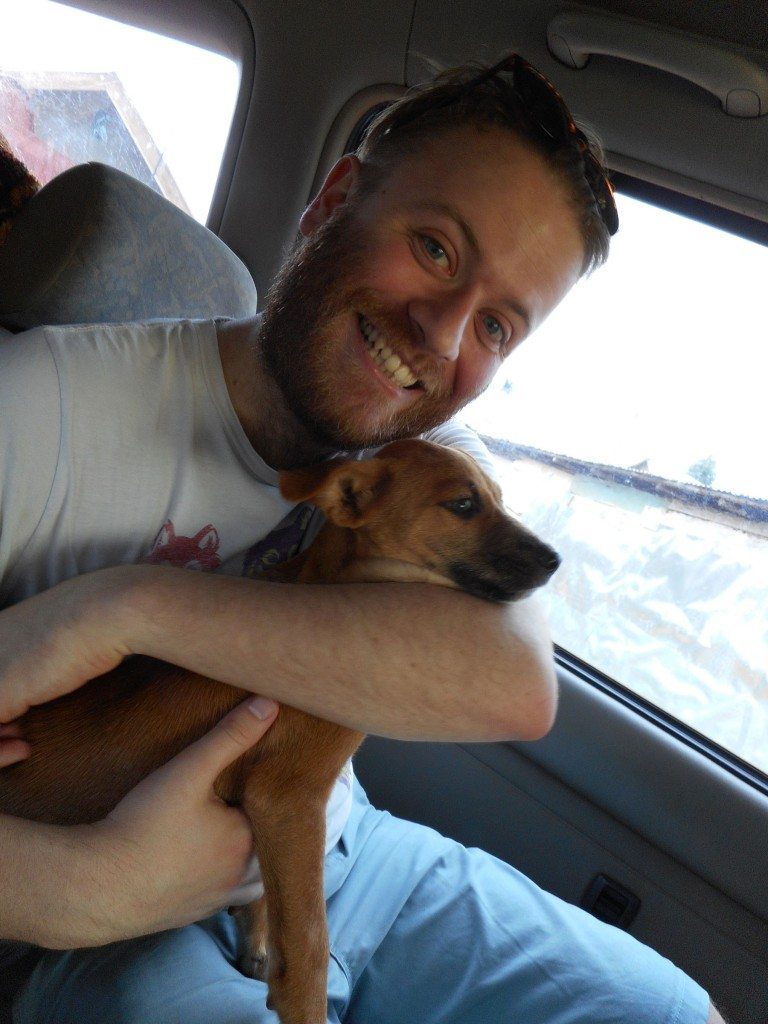 Me with one of the puppies
We didn't necessarily sign up for this. We weren't intending on heading over to East Africa to help reunite US soldiers with their beloved newly adopted pets. We were staying in Entebbe, a small dusty town on the northerly tip of Lake Victoria in Uganda, and had just woken up after our first night in the hostel. Whilst trying to figure out how to get a bus up to Kampala, the capital city in Uganda where we were heading next, a cheerful American lady named Kendra came over and asked us if we were in need of a lift to exactly where we were headed. Obviously, we jumped at the chance.
Kendra, who has been living in Uganda for seven years had offered to take us all the way to the Red Chilli Hideaway where we were heading, but needed to pick up some dogs. She offered to drop us off first, but we thought we'd tag along for the ride.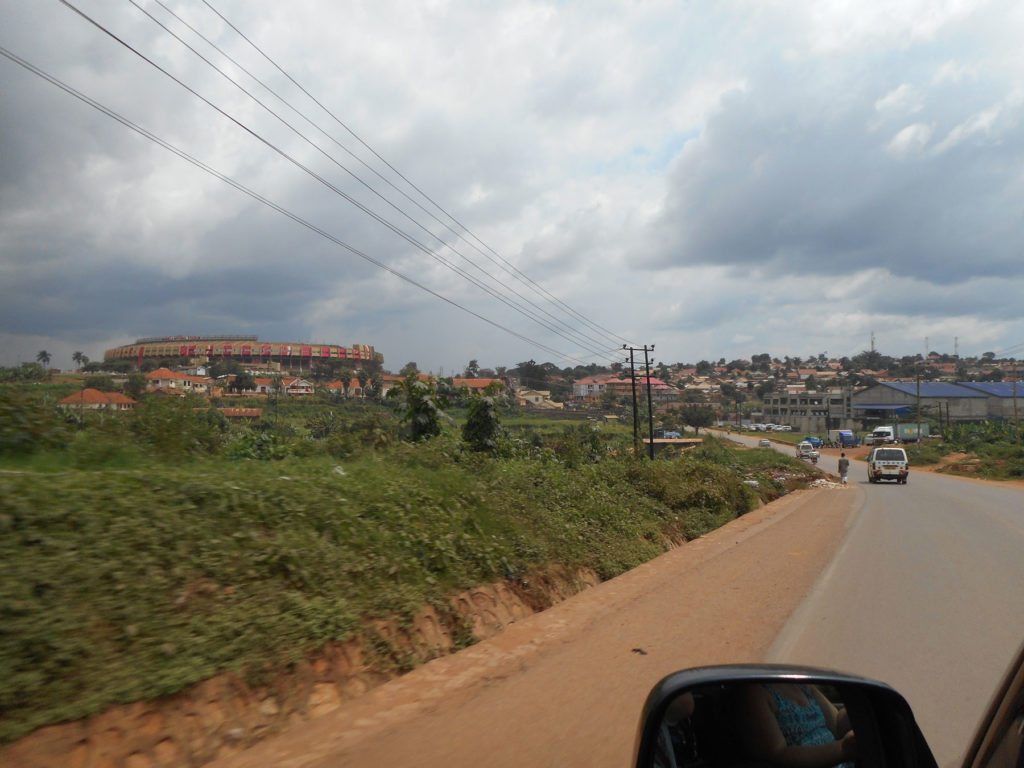 The Mandela National Stadium we drove past
Kendra couldn't have been more helpful and was the friendly face that we needed on our first full day in Africa. Along the way she had quite a few stories to tell, as you might imagine for an American who has spent the last seven years living in Uganda. She had worked in a number of projects helping women get jobs including one project she started herself offering local ladies jobs making beads. She had also almost died from a kidney infection she caught whilst in a Ugandan hospital receiving treatment for a serious case of malaria.
She currently works alongside the USPCA looking after dogs that need rehoming in the local area, castrating them first to ensure they don't breed. She also helps in shipping the aforementioned war dogs (my name for them not Kendra's) back to the US.
So, we headed on down to the USPCA headquarters where we met Dr Alex, a local vet, who was helping care for the 150 or so animals currently on site. According to Kendra most of the Ugandans who end up as vets had only put this occupation down as their fifth or sixth choice when applying for university courses. She went on to say that some where sent out into the wide world of veterinary work having never operated on a dog, and more shockingly, that she had met vets who were actually afraid of dogs.
After a brief look around the kennels, where we got barked at by a lot of dogs and meowed at by a few cats, we were off to USPCA HQ2 to pick up the puppies. The drive there saw us nearly tip the van over on some of the most undulating and canyon-infested 'roads' I had ever seen. But after some thrilling lumps and bumps we were there and picked up these two puppies before setting off on our way. Kendra dropped us to our hostel where we bought her lunch to say thanks for giving us a fantastic, informative and entertaining ride to Kampala.
After lunch Kendra, and the two beautiful puppies, which had been named Moon Weasel and Space Monkey by their military owner, were on their way. But not before we had exchanged details and agreed to head to Jinja to visit Kendra and her 25 dogs in the next week or so.
Claire and I then put up our tent and relaxed by the pool for the rest of the day reading, listening to music and watching the Ballon D'or ceremony on the TV in the bar. Our first full day in Uganda complete.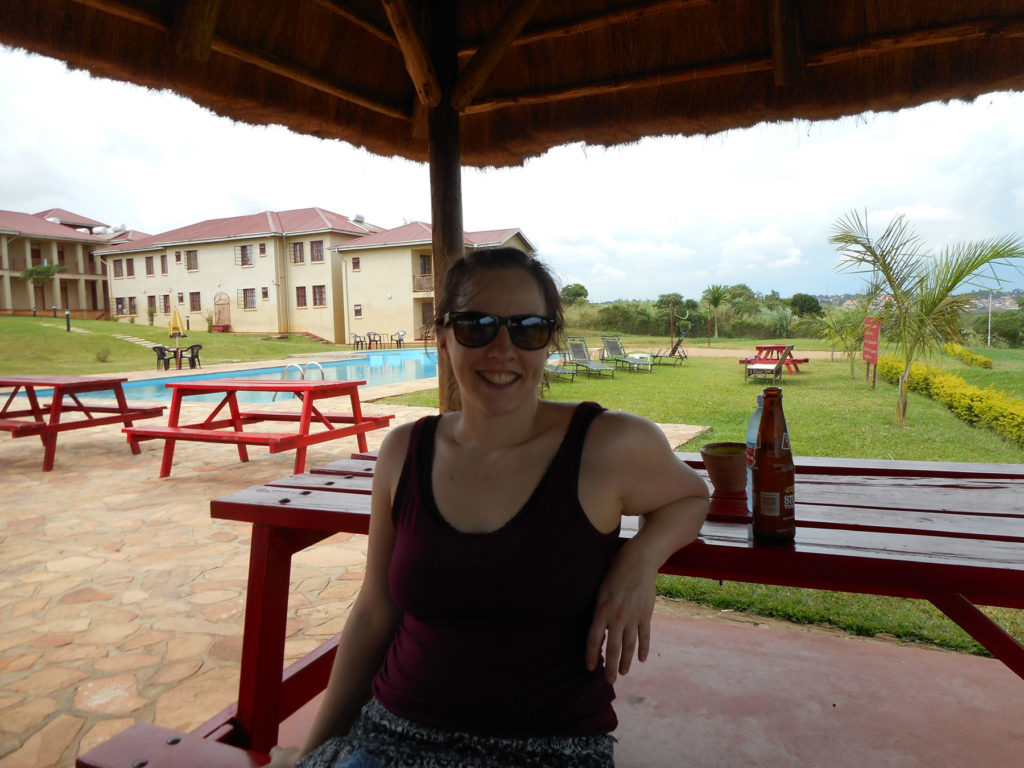 Claire with a beer by the pool